P. Agnes has been working with AtlantiCare for a number of years on a variety of projects. From COVID-19 preparations to drone surveying, a few of our recent work with AtlantiCare is recapped below.  
---
The AtlantiCare extension of our P. Agnes Special Projects Division has been extremely busy since the pandemic hit in March of 2020. Through a collaborative effort with the campus facilities directors, our team has assisted AtlantiCare by creating temporary isolation rooms and the installation of an additional oxygen supply main to help reduce the load on the existing system. In conjunction with efforts from Major Medical Hospital Services, Inc., Concord Engineering, and The Carlin Collaborative, this new oxygen service will help prevent the loss of service pressure due to the increased demand of COVID-19 patients respiratory treatments.
Mainland Campus – Cath Lab Renovation
AtlantiCare's Mainland Campus is receiving a major cardiac catherization equipment upgrade. Over the past 10 months, in conjunction with Phillips Medical and the Carlin Collaborative teams, three of the existing four cardiac catherization laboratories have been retrofitted to receive new Phillips Azurion 7 c20 with FlexArm image-guided therapy systems. This ceiling-mounted system provides unlimited imaging flexibility for diverse procedures and exceptional positioning freedom for the AtlantiCare medical team. Its compact setup provides a highly cost-effective environment, ready for the procedures of the future. Doctors can seamlessly control all relevant applications from a single touch screen at the table side to help make fast and informed decisions without leaving the sterile field.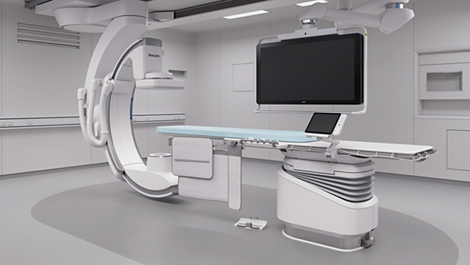 The P. Agnes Drone Surveying Team was utilized to assist AtlantiCare with the replacement of a 15,000 sq ft, multi-level Ballast Roof Replacement project. Due to the complexity of the existing roof system, our drone was utilized to document the existing elevation, square footage, and equipment to create a current, as-built document for all bidders to work from.