Temple University – Anderson Hall Renovation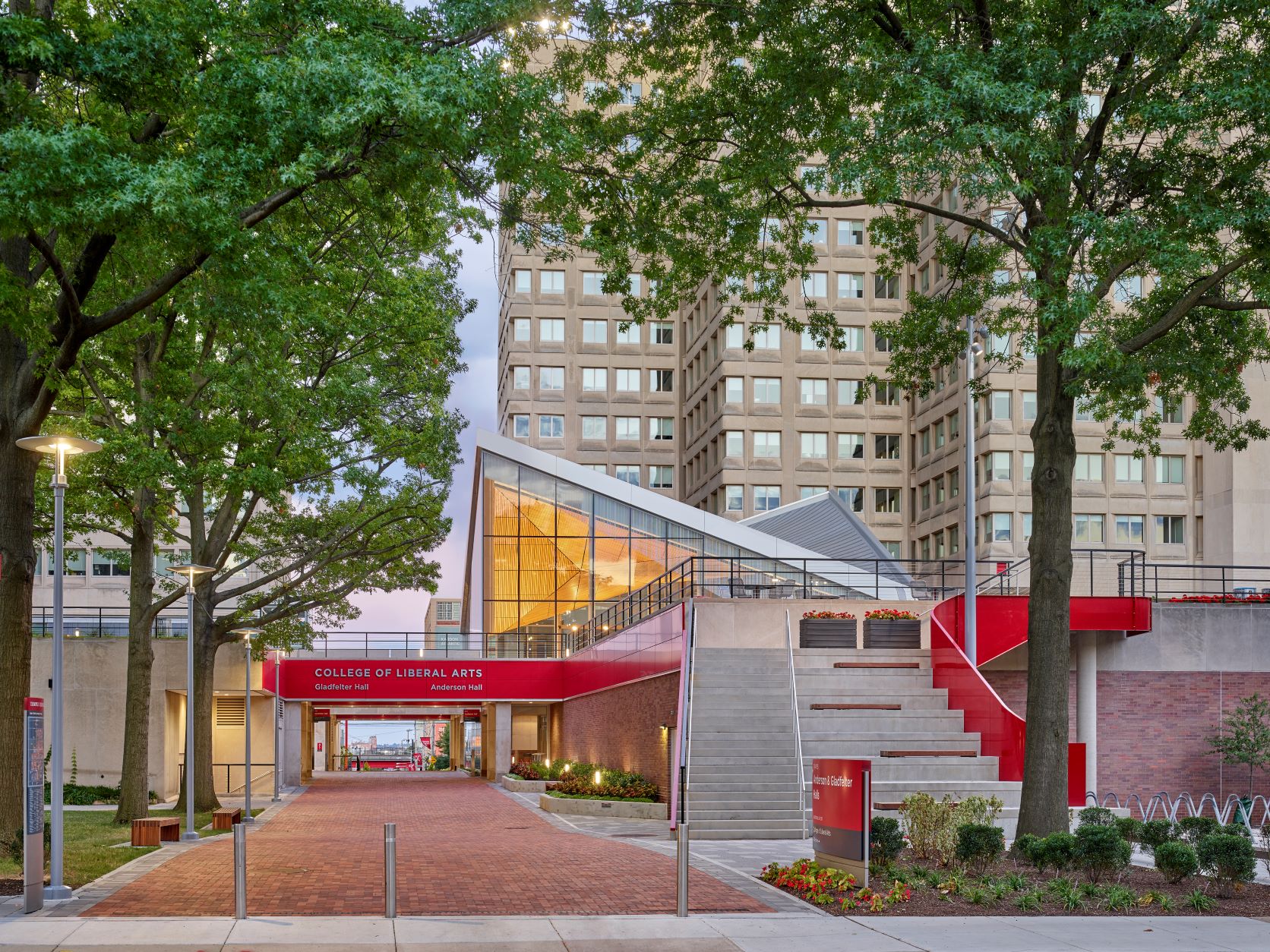 Location: Philadelphia, PA
Architect: Erdy McHenry Architecture; Wallace, Roberts, & Todd
Completion Date: September 2020
Located on Temple University's Main Campus, Anderson Hall is home to the College of Liberal Arts (CLA). Construction began in June 2019 with the goal to finish renovations before the 2020 academic year.

The renovations included the demolition of an existing exterior courtyard which was surrounded by corridors and lecture halls. A new, glass atrium lobby was built within the courtyard, creating a new eastern gateway and entry sequence, and includes a curtainwall exterior with metal panel fascia. The steel hyperbolic paraboloid roof has high point elevations at over 50 feet and low point elevations at 26 feet. Steel roof beams were installed at different slopes, creating a warping effect. The wood ceiling inside has a similar geometry, which presented constructability issues that were worked through while assisting the architect with the design. Steel columns remain exposed and coated in intumescent paint with a high-level finish.
Along with the Anderson Hall lobby, the project also includes updates to the connecting area between Anderson Hall and Gladfelter Hall, and the outdoor spaces just outside of Anderson Hall and on the second-floor terrace.The terrace level between the two buildings will be transformed into a green space with abundant outdoor seating that is designed to accommodate social, professional, educational, and community functions. A new elevator outside of Gladfelter Hall will allow for additional access to the terrace.
This renovation project is the largest renovation project for Anderson and Gladfelter Halls since they opened in 1973. The entire project will be completed at the end of the year.